Products
Focus on stainless steel cookware utensils production, research and development
COOKWARE PRODUCTS
Stainless steel pot is because the steel contains a certain amount of chromium alloy elements, which can form a solid oxide film (passivation film) on the surface of the steel that is insoluble in certain media, so that the metal is isolated from the external medium without chemical action occurs. Stainless steel not only has strong chemical stability, but also has sufficient strength and plasticity, and has stable mechanical properties at a certain high temperature or low temperature. It has excellent corrosion resistance during use. Established in one of the most famous stainless steel production bases in Guangdong Province, China, in 2002, Changwen Industrial Ltd. has developed into a professional manufacturer specializing in medium and high quality stainless steel cookwares with 20-year experience. Stainless steel cookware wholesale customization, undertake OEM & ODM orders. Contact us now!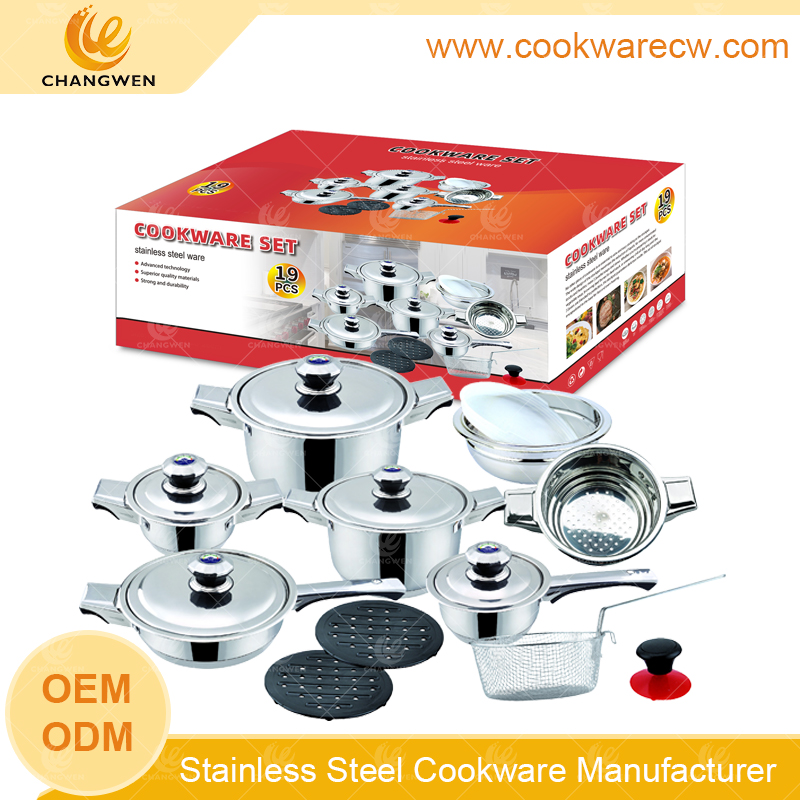 Heavy weight cookware set steamer pot 19pcs stainless steel pots and pans with thermal knobs and heat insulation handle frying basket salad bowl with PP lid kitchen utensil fire mats suction knob CW52007-19
Product Character:
16*8.0cm saucepan w/lid
16*8.0cm casserole w/lid
20*10.5cm casserole w/lid
20*10cm steamer
24*14.0cm casserole w/lid
24*6.5cm frypan w/lid
20*7.0cm salad bowl w/PP lid
20cm frying basket
2pcs fire matts
1pc suction
Product Name
Stainless steel cookware set
Model No.
CW52007-19
Material
Stainless steel
Lid
Glass lid
Handle
S/S combined handle with rivet
Bottom
Induction available
Thickness
0.5mm
OEM&ODM
Highly welcome to OEM & ODM
Used for
Suitable for all cooking sources ( stove & cooktops ):
electric/ gas/ infrared/ induction stoves/ glass or ceramic cooktops
Be applicable
Dishwasher-safe/ Oven-safe to 550 degrees Fahrenheit/
Freezer-safe for food storage/ Lifetime limited warranty.
description
19 pcs stainless steel wide edge cookware set with 9-stepped bottom, mirror polishing outside and inside,bakelite and S/S combined handle with rivet, thermo knob (thermometer),S/S , 0.6mm body and lid ( thickness of frypan: 0.8mm), 0.5mm Alu. +3.0mm Iron +0.5mm Alu.Capsule bottom, 430 material protector. Each piece with a scale inside and a brand logo outside, each piece with a hang tag.