Products
Focus on stainless steel cookware utensils production, research and development
COOKWARE PRODUCTS
Stock pots are easy to identify because they are usually the largest pot in the kitchen. They have the highest walls with a base that's small in comparison to the height of the pot. The shape of the pot allows large quantities of liquids to heat up without evaporating, which is ideal for cooking stocks and soups. Stock Pot Uses - Simmering and boiling liquids for stocks, soups, and pasta Stock Pot Characteristics - Medium to high volume, tall straight sides, small diameter base, two loop handles Pot or pan - Pot; stock pots are ideal for simmering or boiling ingredients without any reduction Established in one of the most famous stainless steel production bases in Guangdong Province, China, in 2002, Changwen Industrial Ltd. has developed into a professional manufacturer specializing in medium and high quality stainless steel cookwares with 20-year experience. Stainless steel cookware wholesale customization, undertake OEM & ODM orders. Contact us now!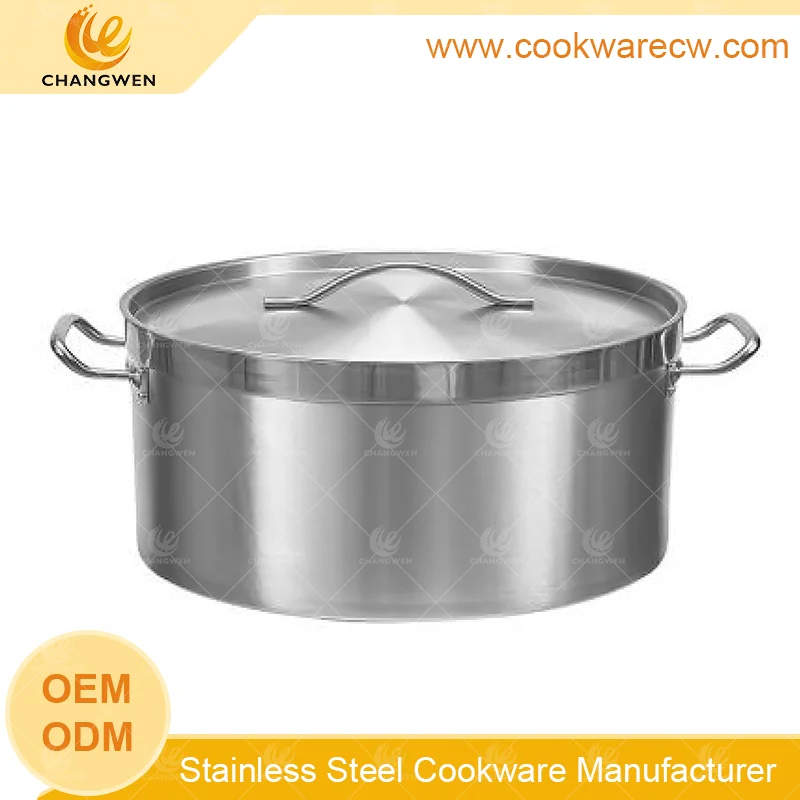 Stainless Steel Stock Pot CW-S032-3
Product Character:
25X18CM 8L
30X20CM 13L
32X22CM 17L
36X24CM 24L
40X26CM 31L
45X28CM 44L
50X30CM 59L
55X35CM 81L
60X40CM 106L
Stainless Steel Cookware sets

SS304

25/30/32/36/40/45/50/55/60

Stainless Steel

S/S Handle

Welcome to contact us, and you will receive a prompt reply

Pros of Stainless Steel Cookware

· Durable, non-corrosive, not reactive, long-lasting
· Perfect for acidic foods and sauces
· Non-reactive, maintaining flavors from one dish to the next
· Very hygienic – doesn't trap foods or bacteria


Within 60 days since deposit received.

Inspection based on AQL 2.5/4.0.